Networking Essentials
I NEED HELP WITH HOMEWORK 2
 and it connects to homework 1. I have attached answers for homework 1 and don't know how to do homework 2. Please help me with both parts. HERE IS HOMEWORK 2 QUESTIONS Note: You will need HW 1 in order to complete this week's homework.  Your network must adhere to CISCO 3 tier architecture standard and label all the ACCESS & TRUNK lines distinctively as well as STP (Spanning Tree Protocol) services. You must include the original network diagram from HW 1. 1) XYZ Cafe is rapidly gaining success and is expanding its business. They are opening up 2x more retail locations in Boise. Store 2 is located in Meridian and Store 3 is located in Nampa. The setup of both stores are 100% identical to the original location; which we are calling as Store 1 (Refer to HW 1, Q1) for the exception of the following; All sales data (from store 1, 2 & 3) will be saved into a new Database Server located at the back office of Store 1. Therefore Store 1 & 2 will need to have connection to this database in Store 1. The owner would also like your opinion on how to have a backup service for the Database Server since it holds important sales data. Design the new network diagram for all the 3x stores of ZYX Cafe.  Make sure all networks for all the stores are secured. (5 pts) 2) ABC Inc is building a new executive wing structure just next to their original downtown office (See HW 1, Q2). This new executive wing has only 1 level, but it houses 4x large executive suites. Each suite must have the capability to support 6x nodes and 1x POE(Power Over Ethernet) IP phone. The whole structure is equipped with 3x 802.11n WIFI AP (Access Points). Extend ABC Inc network from HW 1 Q2, to reflect this new Executive Wing Structure. (5 pts) Use MS Visio to draw your diagrams and upload it to blackboard before the due date.
AND HERE
IS
HOMEWORK 1 QUESTIONS WITH ANSWERS.
he Cisco 3 tier architecture is the industry's standard network design for midsize to large size enterprise. If budget is a concern, network architects can also follow the Cisco "Collapse Core" system that usually lumps the Core and Distribution layers into one. Study the following article and watch the video provided below and answer the homework questions. http://www.ciscopress.com/articles/article.asp?p=2202410&seqNum=4 https://www.youtube.com/watch?v=gKTxTOrjXs0 1) ZYX Cafe is renovating its retail space and is asking your help to redesign their network. The back office of the Cafe needs 2x PCs and a network shared printer. The counter area uses 3x iPADs as their Point of Sale system that depends on WIFI conenction. The main Cafe has a need of 4x 802.11n WIFI access points for customers use. Design the new Cafe network with CISCO 3 tier architecture. Label the ACCESS & TRUNK lines distinctively. (5 pts) 2) ABC Inc is a 2 story office building located in downtown Boise. There are 2 office spaces on level 1 of the building with 3 computers and 1 printer per space. Level 2 of the building has 4 office spaces with 4 computers per space and 2x shared network printers located in the hallway. Each level also have 2x 802.11n WIFI access points. Design the building's network with CISCO 3 tier architecture.  Label the ACCESS & TRUNK lines distinctively.  (5pts) Use MS Visio to draw your diagrams and upload it to blackboard before the due date.
ANSWERS TO HOMEWORK 1
ANS1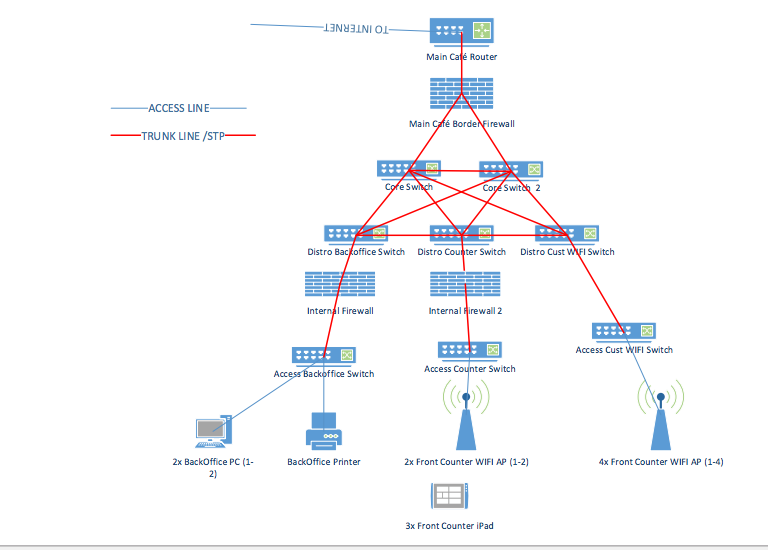 ANS 2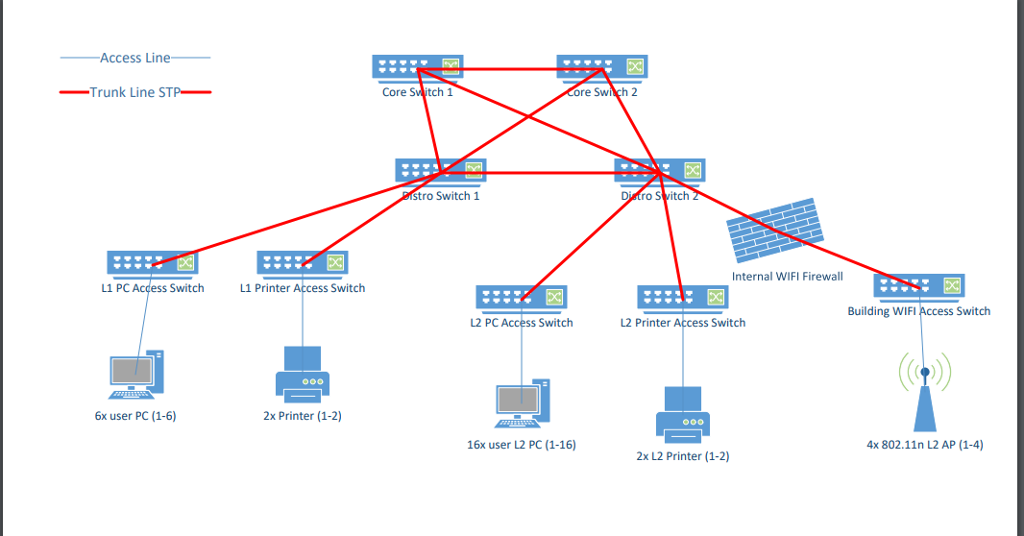 Main Caté Router ACCESS LINE_ Main Café BordeFirewall TRUNK LINE /STP Distro Bac office Switch Distro Counter Switch Distro Cust WFI Switch Internal Firewall Internal irewall 2 Access Cust WIFI Switch Access Counter Switch Access Backoffice Switch 2x Backoffice PC (a BackOffice Printer 2x Front Counter WIFI AP (1-2) 4x Front Counter WIFI AP (1-4) 2) 3x Front Counter iPad